Unity Moravian Church is a community of faith:
Invites people into relationship with God.
Growing in all ways into Christ.
Sharing Christ's love and compassion with others.
Friends. Family. Faith.
At Unity, you'll find a community of people who share in worship, service, and fellowship while following Jesus in serving the world.
We are a faith community of families and individuals in Lewisville, North Carolina, who share a common bond of love for Jesus Christ, a fellowship of family and friends, and an appreciation for traditions — both old and new — of the Moravian Church.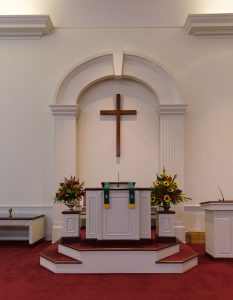 To learn more about our congregation and our denomination, please browse through our site, and come worship with us on Sundays at 11:00am. We hope you will feel right at home here as together we grow in faith, love, and hope.
What to Expect
A typical Sunday service lasts about 60 minutes and includes music, liturgy, prayer, participation, and a message. We use the Moravian Book of Worship for hymns and liturgy, as well as Sing to the Lord a New Song, the new Moravian songbook, with more contemporary themes. Dress is smart casual, but everyone is welcome to come as they are. Several Sunday School classes meet prior to worship beginning at 9:45am.
Children over the age of 3 are invited to participate and receive communion when it's offered. Every Sunday, children ages 3-7 enjoy a message just for them as well as activities outside the sanctuary during the pastor's message to the congregation. A nursery for children under 3 is provided.