Our neighbors and their families are invited to celebrate Christmas with us at Unity Moravian Church.  Although Advent and Christmas look very different for our community in 2020, we remain steadfastly hopeful as we welcome our Lord in a unique way.
Thursday, Dec. 24    *Rain or Shine!*
Lovefeast To Go (Drive-Thru Kit Pickup is 2:00 PM* – 6:00 PM in Unity's parking lot.) 
*Dec 23 UPDATE: Lovefeast-To-Go kit pickup on Christmas Eve *NOW* from 2:00 PM until 6:00 PM in our parking lot. Due to expected heavy rain and winds, we're extending the hours for pickup. Pre-ordering kits is no longer possible, but there will be a few extra available on a first-come, first-served basis.
If you pre-ordered lovefeast kits for your friends and loved ones, you will be able to pick up Lovefeast buns, candles, trim, coffee mix and a special Lovefeast ode to celebrate in a new way this year through our Covid-safe parking lot drive-thru pickup.  These special items will help you prepare your heart for our virtual service which will be livestreamed from the church sanctuary.  Did you forget to pre-order? No worries – we will have some additional Lovefeast-To-Go kits available on a first-come, first-serve basis.  Visit this page for directions on trimming your lovefeast candle.
Christmas Eve Offering
During our traditional in-person Christmas Eve services, we collect an offering and split it among a few community organizations. With the challenges of the pandemic, these donations are needed more than ever. You will have a chance to offer a donation upon pickup of your kit, but you may also
choose to make your donation online
. For 2020, the Unity church board voted to divide the Christmas Eve Lovefeast Offering three ways: for the benefit of Sunnyside Ministries,  Friends of Moravian Prison Ministry, and Laurel Ridge Moravian Camp, Conference, and Retreat Center.
Virtual Christmas Eve Lovefeast & Candle Service (7:00 PM)
Join us online on Facebook and YouTube at 7:00 PM Eastern Time on December 24th for our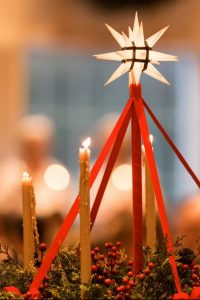 Christmas Eve Lovefeast and Candle Service. Enjoy celebrating this special service in a unique way as we welcome the birth of our Lord.  Share photos and video of your family celebrating Lovefeast to our Facebook page while you enjoy Lovefeast To Go in the comfort of your home. A pre-recorded brass band prelude begins about 6:50 PM.
All in-person events take place at Unity Moravian Church at 8300 Concord Church Road in Lewisville, NC.
All virtual services can be accessed via:
Facebook: https://www.facebook.com/unitymoravian
or
Youtube: https://www.youtube.com/channel/UC-gFmqf09qQVbvTTalvyCiQ
Read more about the Moravians at https://www.moravian.org/.