Our neighbors and their families are invited to celebrate Christmas with us at Unity Moravian Church.  Although Advent and Christmas look very different for our community in 2020, we remain steadfastly hopeful as we welcome our Lord in a unique way.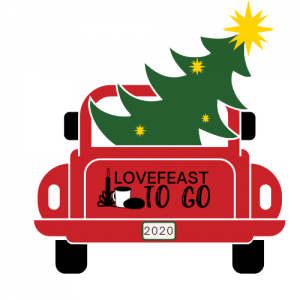 Thursday, Dec. 24    
Lovefeast To Go (Drive-Thru Kit Pickup is 4:00 PM – 6:00 PM in Unity's parking lot.)
Make a reservation to pick up Lovefeast buns, candles, trim, coffee mix and a special Lovefeast ode to celebrate in a new way this year through our Covid-safe parking lot drive-thru pickup.  Enjoy hymns and special music while you prepare your heart for our virtual service which will be livestreamed from the church sanctuary.  Reservations are requested; any additional Lovefeast-To-Go kits will be distributed first-come, first-serve.
Virtual Christmas Eve Lovefeast & Candle Service (7:00 PM)
Join us online on Facebook and YouTube at 7:00 PM Eastern Time pm on December 24th for our Christmas Eve Lovefeast and Candle Services. A brass band plays beforehand to welcome all for this beautiful, virtual worship service sure to get you in the Christmas spirit! Enjoy celebrating this special service in a unique way as we welcome the birth of our Lord.  Share photos and video of your family celebrating Lovefeast to our Facebook page while you enjoy Lovefeast To Go in the comfort of your home.
All in-person events take place at Unity Moravian Church at 8300 Concord Church Road in Lewisville, NC.
All virtual services can be accessed via:
Facebook: https://www.facebook.com/unitymoravian
or
Youtube: https://www.youtube.com/channel/UC-gFmqf09qQVbvTTalvyCiQ
Read more about the Moravians at https://www.moravian.org/.